Archives Search
Description found in Archives
Pacific Ocean, with a view of Australia and Polynesia, and the Indian Archipelago [cartographic material] /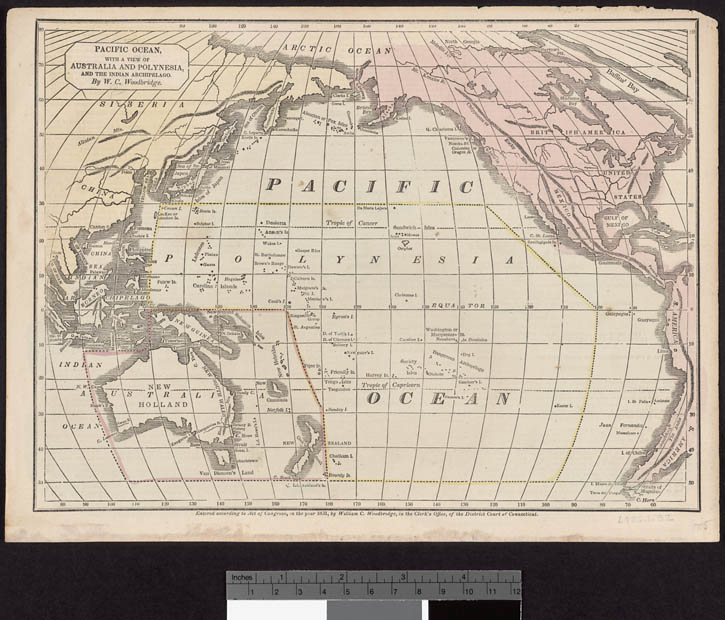 Online MIKAN no. 4164667 (1 item)
1 map : col. ; 21 x 27 cm on sheet 23 x 30 cm.

Map focuses on the Pacific Ocean. Australia is called New Holland.
Cartographic material
90: Open
Original can be viewed in the presence o
f an early cartographic archivist. Microfiche version is open.
Cartographic material
Microfiche NMC27692
90: Open
Item no. (creator)
Alexander E. MacDonald Canadiana Collection #81
Cartographic material
90: Open
Other accession no.
80101/245 CA
Local class no.
H3/1-4000/1831
Copyright: Expired
Credit Library and Archives Canada.
Relief shown by hachures.

From: Modern atlas, on a new plan, to accompany the System of universal geography; a new edition, improved; by William Channing Woodbridge

Entered according to Act of Congress 1831, by William C. Woodbridge in the Clerk's Office of the District Court of Connecticut.

On verso: text titled "Animals of the earth - with questions on the chart.

Custodial history
Part of the Alexander E. MacDonald Canadiana Collection purchased by the Public Archives of Canada in 1981.

Cartographic math data
Scale [ca. 1:80 000 000]


Citation / reference note
LeGear, Entry 6073

Availability of other formats note
The microfiche version is NMC 27692 (Text)
1. World - Maps.
2. Pacific Ocean - Maps.
Date modified: