Archives Search
Description found in Archives
A General chart exhibiting the discoveries made by Captn. James Cook in this and his two preceeding voyages; with the tracks of the ships under his command, By Lieutt. Roberts of His Majesty's Royal Navy [cartographic material]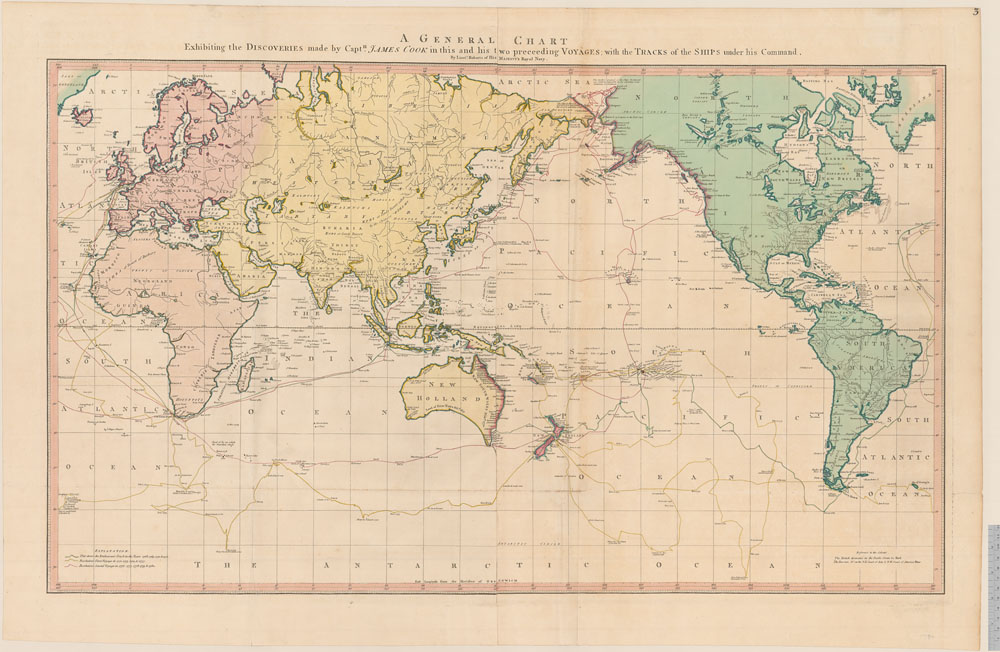 Online MIKAN no. 4153244 (1 item)
1 map : col., 51 x 87 cm on sheet 65 x 98 cm.

Highly detailed map of the World on Mercator's Projection, identifying the routes of Captain James Cook's 3 voyages aboard the Endeavor (1768-1771) and Resolution (1772-1780). Drawn by Lt. Roberts, who accompanied Cook on his voyages, the map provides a detailed, large format account of Cook's 3 expeditions, includes dates and the many places where Cook coasted and landed during his 12 years at Sea. There are also notes from several other major discoveries in Australia and the South Pacific and annotations, providing details of the voyages and or the history of the discovery of certain regions.
Cartographic material
90: Open
Original can be viewed in the presence o
f an early cartographic archivist. Microfiche version is open
Cartographic material
Microfiche NMC27702
90: Open
Item no. (creator)
Alexander E. MacDonald Canadiana Collection #74
Cartographic material
90: Open
Other accession no.
80101/245 CA
Local class no.
H2/10000/[1794?]
Copyright: Expired
Credit Library and Archives Canada.
Prime meridian Greenwich.

"3" appears in upper right margin.

Shows Endeavor's tracks, 1768-1771; and two voyages by Resolution, 1772-1775 and 1776-1780.

Includes reference to the colour. The British discoveries in the Pacific Ocean & c - red; The Russion discoveries on the N.E. Coast of Asia & N.W. Coast of America - blue.

From William Faden's [General Atlas], 1794, map no. 3

Custodial history
Part of the Alexander E. MacDonald Canadiana Collection purchased by the Public Archives of Canada in 1981.

Related materials
For earlier version see: Mikan 4148075 (NMC22685, NMC 25978)

Citation / reference note
Wagner, Entry 696
LeGear, Entry 6010, map no. 3

Availability of other formats note
The microfiche version is NMC27702

Exhibitions note
Up North: The Discovery and Mapping of the Canadian Arctic, 1511-1944" An Exhibtion held at The Royal Ontario Museum April 1958
1. Cook, James, 1728-1779.
2. Pacific Coast (North America) - Discovery and exploration - Maps - Early works to 1800.
3. Endeavour (Ship)
4. Resolution (Ship)
5. Voyages around the world--Maps--To 1800.
6. Discoveries in geography--Maps--To 1800.
7. World - Maps - Early works to 1800.
Date modified: