Archives Search
Description found in Archives
Americae tam septentrionalis quam meridionalis in mappa geographica delineatio [cartographic material] admentem Novissimorum eorumq. optimorum Geographorum emendata Indicibus utilissimis aucta et adusum Tyronum imprimis Geographicorum variis compendiosae Methodi adminiculis accomodata. /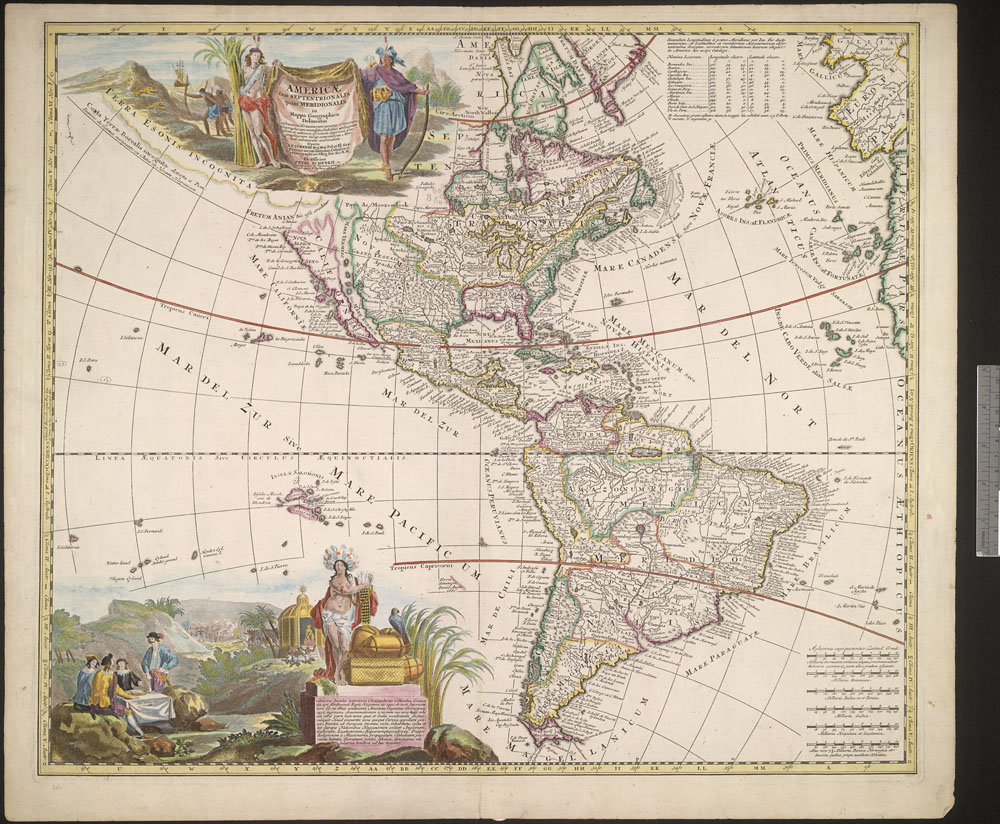 Online MIKAN no. 4146564 (1 item)
1 map : ill., hand col. ; 49 x 57 cm on sheet 55 x 63 cm.

This map of the Americas, showing California as an island was, published by Adam Friedrich Zurner and engraved by Pieter Schenk. The main body of North America reflects corrected information, including De L'Isle's treatment of the Mississippi River Valley and the Rio Grande River properly flowing into the Gulf of Mexico. The map also shows a massive Terra Esonis Incognita, a vestage of the prior century, when popular (mythical) cartography showed a near continuous land bridge from the Straits of Anian to Japan. The Pays de Moozemlek is shown to the East of the Straits of Anian.
Cartographic material
90: Open
Original can be viewed in the presence o
f an early cartographic archivist. Microfiche version is open.
Cartographic material
Microfiche NMC27755
90: Open
Item no. (creator)
Alexander E. MacDonald Canadiana Collection #112
Cartographic material
90: Open
Other accession no.
80101/245 CA
Local class no.
H2/1-2000/[1709] (copy 2)
Copyright: Expired .
Credit Library and Archives Canada
Pictorial relief.

Copperplate engraving.

Includes two beautiful allegorical cartouches, including a title cartouche, flanked by two Native Americans and large vignette at bottom showing explorers seated around a table, natives worshiping in a temple, and a battle. Latin text enclosed in the cartouche discusses the explorations of Columbus, and Catholic missions.

Includes a table of longitude and latitude.

From: Ottens, R. & J.: Atlas minor sive geographia compendiosa in qva orbis terrarum pavcis attaman novissimis tabvlis ostenditvr. - Atlas nouveau, contenant toutes les parties du monde, ou sont exactement remarquées les empires, monarchies, royaumes, etats, republiques, &c, &c. &c. receuillies des meilleurs auteurs. Amsterdam, R & J. Ottens, (1703-1756), no. 46.

From: Schenk, P.: Atlas contractus five mapparum geographicarum Sansoniarum auctarum et correctarum nova conggeries. Amstelaedami, P. Schenck (1709) No. 5.

From: Valck, G. & Schenk, P.: Atlantis sylloge compendiosa. Amstelodami, G. Valk & P. Schenk, 1709, no. 97.

Custodial history
Part of the Alexander E. MacDonald Canadiana Collection purchased by the Public Archives of Canada in 1981.

Related materials
For other copy see Mikan 4248022 (NMC 16771)

Cartographic math data
Scale indeterminate .


Cartographic math note
Includes six bar scales.

Citation / reference note
Wagner, v. 2, Entry 490
Tooley, p. 128, Entry 67
Phillips, Entry 542, map no 46
Phillips, Entry 551, map no [5]
Phillips, Entry 4276, map no 97

Availability of other formats note
The microfiche version is NMC27755 (Copy 2)
1. North America - Maps - Early works to 1800.
2. South America - Maps - Early works to 1800.
3. Western hemisphere - Maps - Early works to 1800.
Date modified: