Archives Search
Description found in Archives
Americae sive orbis, nova descriptio. Cum privilegio. [cartographic material].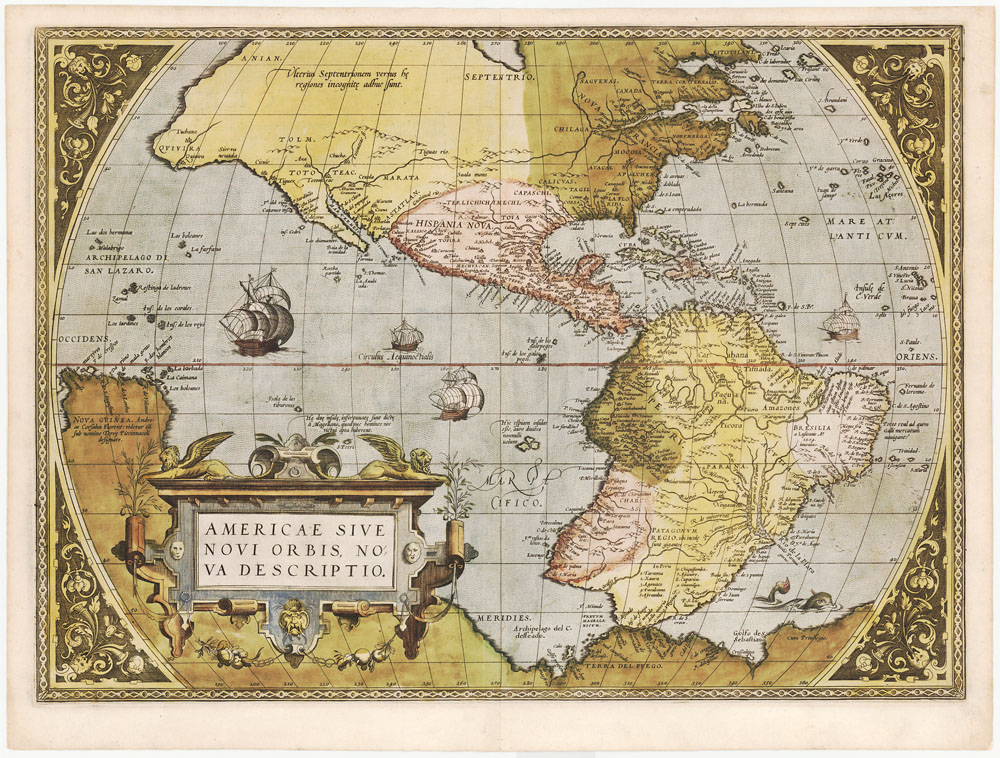 Online MIKAN no. 4143460 (1 item)
1 map : ill., hand col. ; 36 x 49 cm on sheet 41 x 54 cm.

Second state of Oretlius' map of America. Ortelius map of America is without doubt one of the most recognized and influential maps of America from the 16th Century. The map first appeared in the 1570 edition of Ortelius' Theatrum Orbis Terrarum. This is a copy of the 2nd state, with the bulge in South America and the large ship in the Pacific sailing eastward, with the text on the verso indicating that it was issued in the 1571 Latin edition of Ortelius' Theatrum Orbis Terrarum. Ortelius depicts the discoveries of a number of explorers, but the general shape of America is derived from Gerard Mercator's 21 sheet world map of 1569. The bulge in South America is the most notable feature of the map, which was not corrected until the 3rd state. The cartouche hides the lack of knoweldge in the south Pacific, although the massive Terra Australis Incognita is still very much in evidence, a myth not disspelled until Cook's second voyage. The West Coast of North America has a wildly inaccurate western projection.
Cartographic material
90: Open
Original can be viewed in the presence o
f an early cartographic archivist. Microfiche version is open
Cartographic material
Microfiche NMC27720
90: Open
Item no. (creator)
Alexander E. MacDonald Canadiana Collection #94
Cartographic material
90: Open
Other accession no.
80101/245 CA
Local class no.
H3/1-2000/[1570] (Plate I, State 2) (2 copies)
Copyright: Expired
Credit Library and Archives Canada.
Pictorial relief.

Copperplate engraving.

State 2 of map, based on the Azores being correctly labelled and the large sailing ship in the Pacific Ocean sailing eastward.

Illustrated with sailing ships, sea monsters and decorative title cartouche in bottom left corner.

Text on verso titled "Novvs orbis" with page number 2. Dutch edition dated 1571 with first word in line two "dinem" being flush to the margin.

Custodial history
Part of the Alexander E. MacDonald Canadiana Collection purchased by the Public Archives of Canada in 1981.

Related materials
For other copies and or editions see: G1006 .T5 1570 .S5 1964 - fol. (AMICUS No. 26306098) ; Mikan 4236061 (NMC 6859) ; G1006 .T5 1584 - fol. Vault (AMICUS No. 26306177).

Cartographic math data
Scale indeterminate.


Citation / reference note
Burden, Entry 39
Tooley, R.V. "Mapping of America", p. 320

Availability of other formats note
The microfiche version is NMC27720 (Copy 2)

Exhibitions note
This map was part of an exhibition held at The Royal Ontario Museum, March 1954 entitled "The Discovery & Mapping of the Great Lakes 'Sweet Water' 1522-1703 showcasing MacDonald's Collection.
Canada on Maps 1564-1616: Stratford Festival Exhibition 1966.
1. North America - Maps - Early works to 1600.
2. South America - Maps - Early works to 1600.
3. Western hemisphere - Maps - Early works to 1600.
Date modified: