Archives Search
Description found in Archives
Joseph Guibord [graphic material]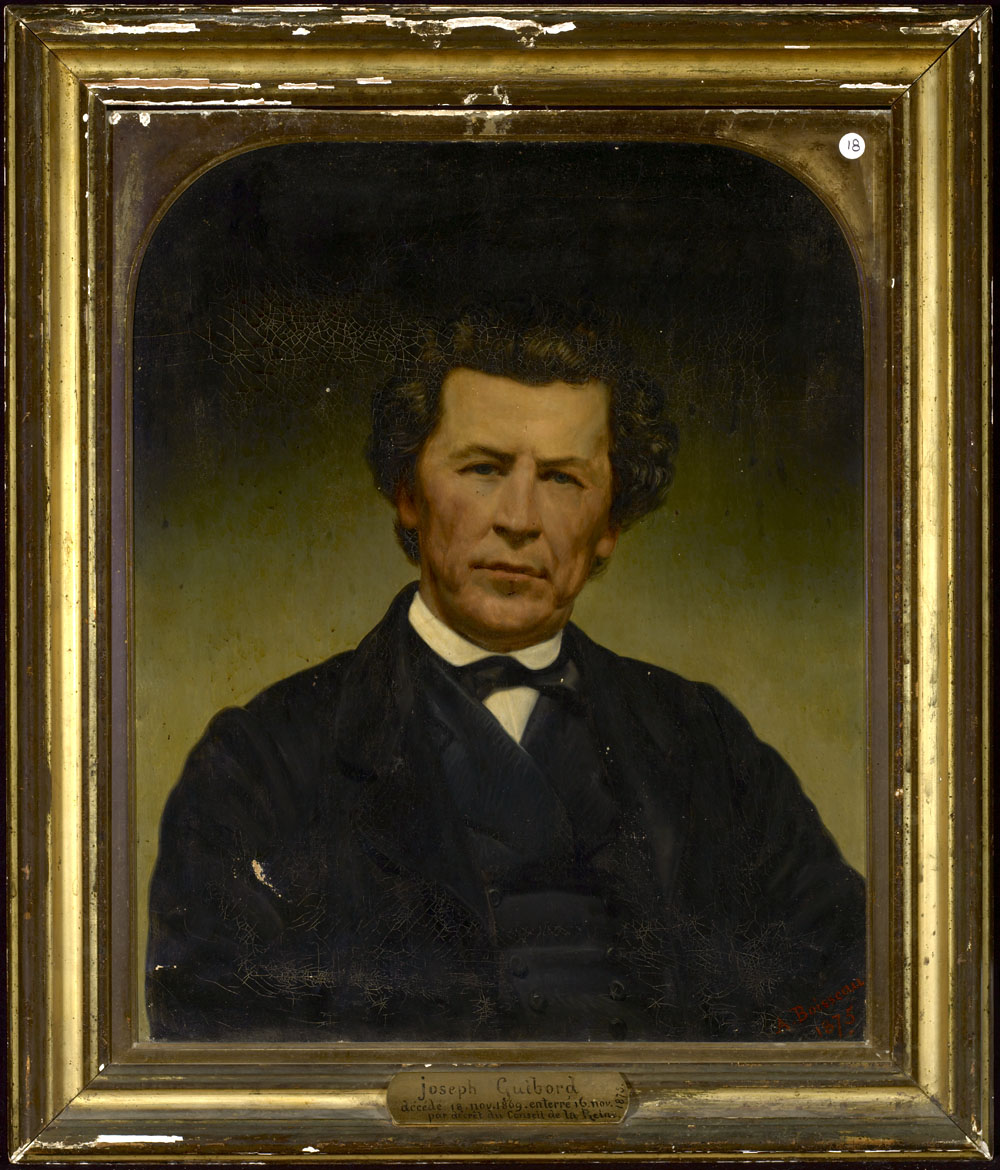 Online MIKAN no. 4089373 (4 items)
1 painting : oil on canvas ; 55.9 x 68.6 cm.
Support: 55.900 x 68.600 cm

Accession consists of a portrait of Joseph Guibord, painted in 1875 by Alfred Boisseau. Joseph Guibord was born in 1809 at Sainte-Anne-de-Varennes, Quebec. Guibord worked as a typographer and is thought to have introduced stereotype printing in Canada, as well as to have participated in the printing of Canada's first stereotyped book. Guibord's chief fame, however, lies in the controversy and court case that came after his death. As a member of the Institut Canadien, a liberal membership which had been thoroughly condemned by the ultramontane conservatives (and, most particularly, by the Bishop Ignace Bourget), the absolution and communion that Guibord had received, on his deathbed, were revoked. Guibord was excommunicated and barred from burial in consecrated ground. The Institut reacted by supporting Guibord's widow, Henriette Brown Guibord, in a court case against the priest and church wardens of Notre Dame. The case was not decided until 1874, when the Privy Council in London ordered Guibord's burial in the cemetery of Côte-des-Neiges. Bourget retaliated by declaring the place in the cemetery where Guibord is buried as "under an interdict." This posthumous portrait of Guibord is unique – few images of him exist and certainly no proper portraits exist within the national portrait collection. The portrait is important for its relationship to an unusual episode in Quebec history. It is also fascinating as an historical artifact that leads us to speculate on the motivations of portrait artists. Interestingly, its painter was also a member of the Institut Canadien – Alfred Boisseau (1823-1901) was its secretary and superintendent for several years. Boisseau's career, in and of itself, is of interest to scholars of Canadian portraiture. The added dimension of a political link between sitter and artist makes this portrait a rarer piece and most certainly a multi-dimensional one. Boisseau was born in Paris, France, where he received his formal art training. He studied painting with Paul Delaroche and exhibited at the Salon from 1842-1848. After leaving France for North America during the mid nineteenth-century, Boisseau advertised as a portrait painter in New Orleans. He exhibited at the National Academy in 1849 and at the American Art Union in 1852 (both in New York City). Around this time, Boisseau moved to Cleveland, Ohio, advertising himself as a portrait and landscape painter, art instructor and art dealer. He had opened a daguerreian gallery in Cleveland by 1855, claiming to offer the first scenic backdrop in the city. Dated portraits reveal that Boisseau must have revisited Louisiana in 1859 and 1865. He was living in Montreal by 1864 and remained there until 1869. In Montreal, Boisseau advertised as a portrait and landscape painter in oil and watercolour, as well as a photographer. Boisseau is known to have painted numerous portraits of various prominent Canadians and Library and Archives Canada owns his portraits of Louis Joseph Papineau, Julie Bruneau Papineau and Mary Elenor Westcott Papineau.
Graphic (art)
90: Open
To be viewed with the assistance of the
Portrait Gallery of Canada
Volume
1 Item no. assigned by LAC 1

90: Open
Credit line : Library and Archives Canada, archival reference number R13854-1
Copyright : Expired
Restrictions on use : None
Custodial history
Painting was inherited by Shane Quinn, as part of the estate of Thomas Patrick Quinn.

Signatures and inscriptions
None
Date modified: