Archives Search
Warning: Descriptive record is in process. These materials may not yet be available for consultation.
Description found in Archives
Quebec, From Near Pt. Levi.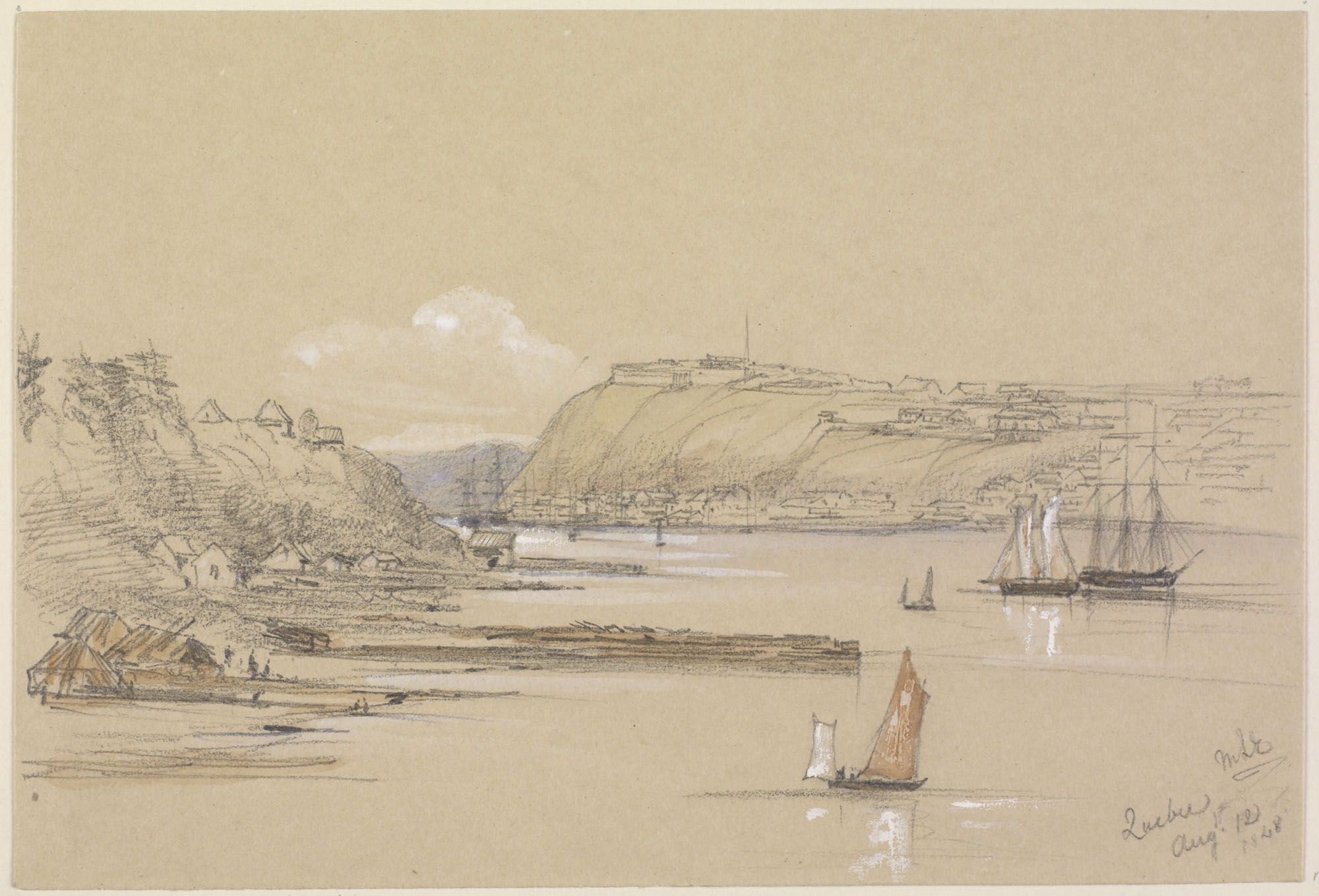 Online MIKAN no. 3994745 (1 item)
1 drawing: pencil, watercolour and white highlights on wove paper; 12.2x18 cm (image); 27x36 cm (folio)

The title refers to Pointe-Lévy [Lévis]. A marine scene depicting a view of the battlements atop Cap Diamant and the buildings of Lower Town from the St. Lawrence River close to the south shore near Pointe-Lévy. At the left of the work are buildings with bell-cast gable roofs along the south shoreline and at the top of a cliff. There is the suggestion of figures near a group of unidentified structures at the left foreground. There are several sailing vessels in the river. At the far right is a three-masted square-rigged vessel with visible gunports. To its left is a schooner with two masts and fore and aft rigged sails. Other single-masted sailing vessels move in the water. Several sailing vessels are moored alongside the north shore at Lower Town.
Graphic (art)
99: Closed pending processing
Volume
17
99: Closed pending processing
Credit: Library and Archives Canada, James Bruce, 8th Earl of Elgin, and family fonds (R977). Copyright: expired/périmé.
Physical description note
Album of Mary Louisa (Lambton) Bruce, page [35].

Signatures and inscriptions
Inscription: signature (MLE) and date on the artwork; title written on the artwork and on the album page. Pencil frame drawn with a straight edge.
Date modified: