Archives Search
Warning: Descriptive record is in process. These materials may not yet be available for consultation.
Description found in Archives
I. of Orleans, Eastern Point.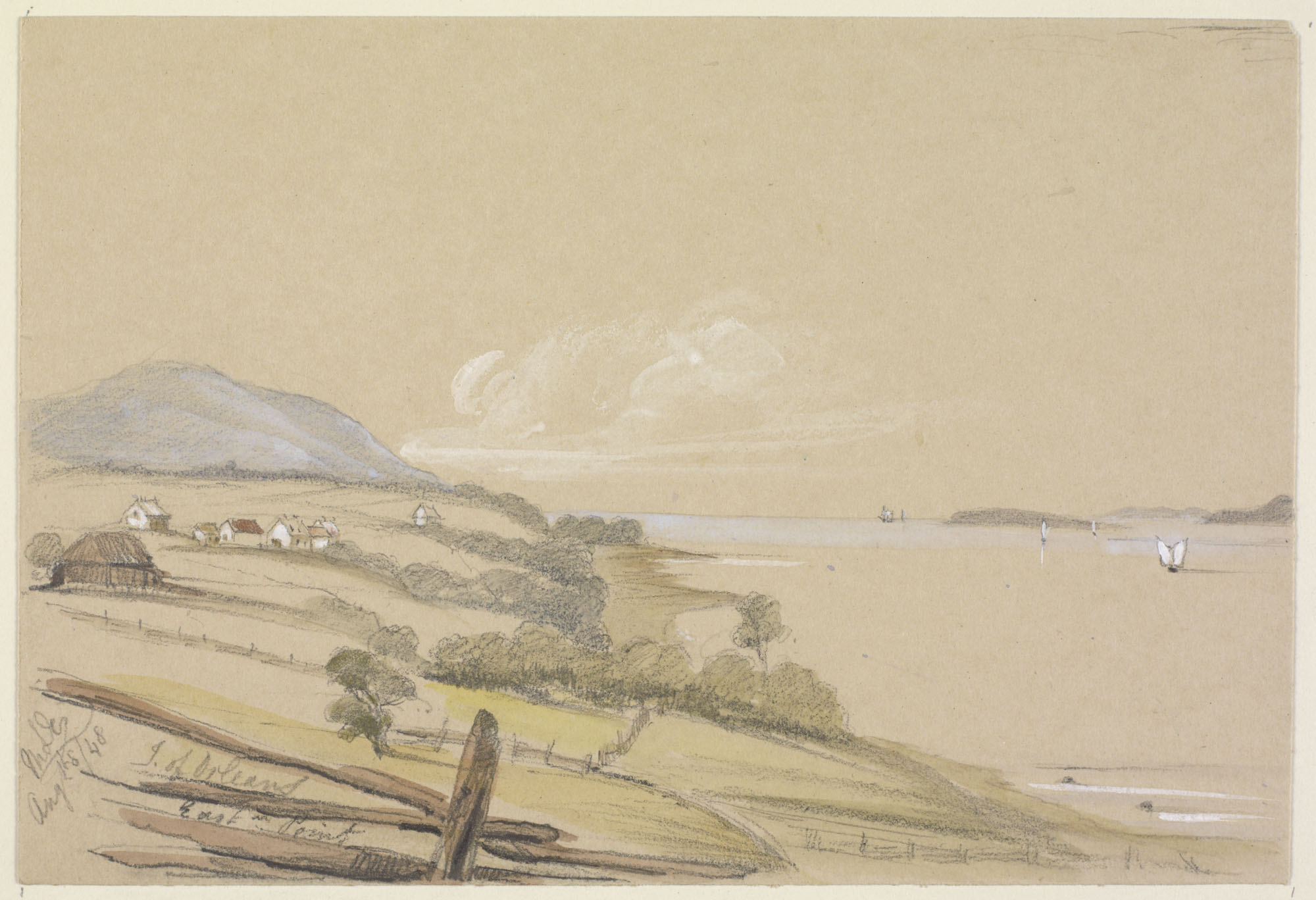 Online MIKAN no. 3994739 (1 item)
1 drawing: pencil, watercolour and white highlights on wove paper; 12.2x18 cm (image); 27x36 cm (folio)

The title refers to Orleans Island. A landscape / marine scene depicting a view of buildings, split-rail fences and vegetation at the eastern end of Île d' Orléans in the St. Lawrence River. The location may be in the vicinity of Saint-François. The buildings have gable roofs, some bell-cast. Chimneys are located at the roof apex and one building has the suggestion of dormer windows extending from the roof. The land rises in gently rolling hills from a sandy shore. The artist has suggested a forested area beyond the buildings. Several fore and aft rigged sailing vessels are in the river. At the right of the work are three landmasses. At the right edge is the eastern tip of Île Madame. To the left of Île Madame is the south shore of the River and to the left again is a foreshortened view of Île au Ruau. At the left side of the work is Cap Tourmente on the north shore of the river.
Graphic (art)
99: Closed pending processing
Volume
17
99: Closed pending processing
Credit: Library and Archives Canada, James Bruce, 8th Earl of Elgin, and family fonds (R977). Copyright: expired/périmé.
Physical description note
Album of Mary Louisa (Lambton) Bruce, page [30].

Signatures and inscriptions
Inscription: signature (MLE), date and title written on the artwork. Pencil frame drawn with a straight edge.
Date modified: