Archives Search
Warning: Descriptive record is in process. These materials may not yet be available for consultation.
Description found in Archives
[On Board a Durham Boat].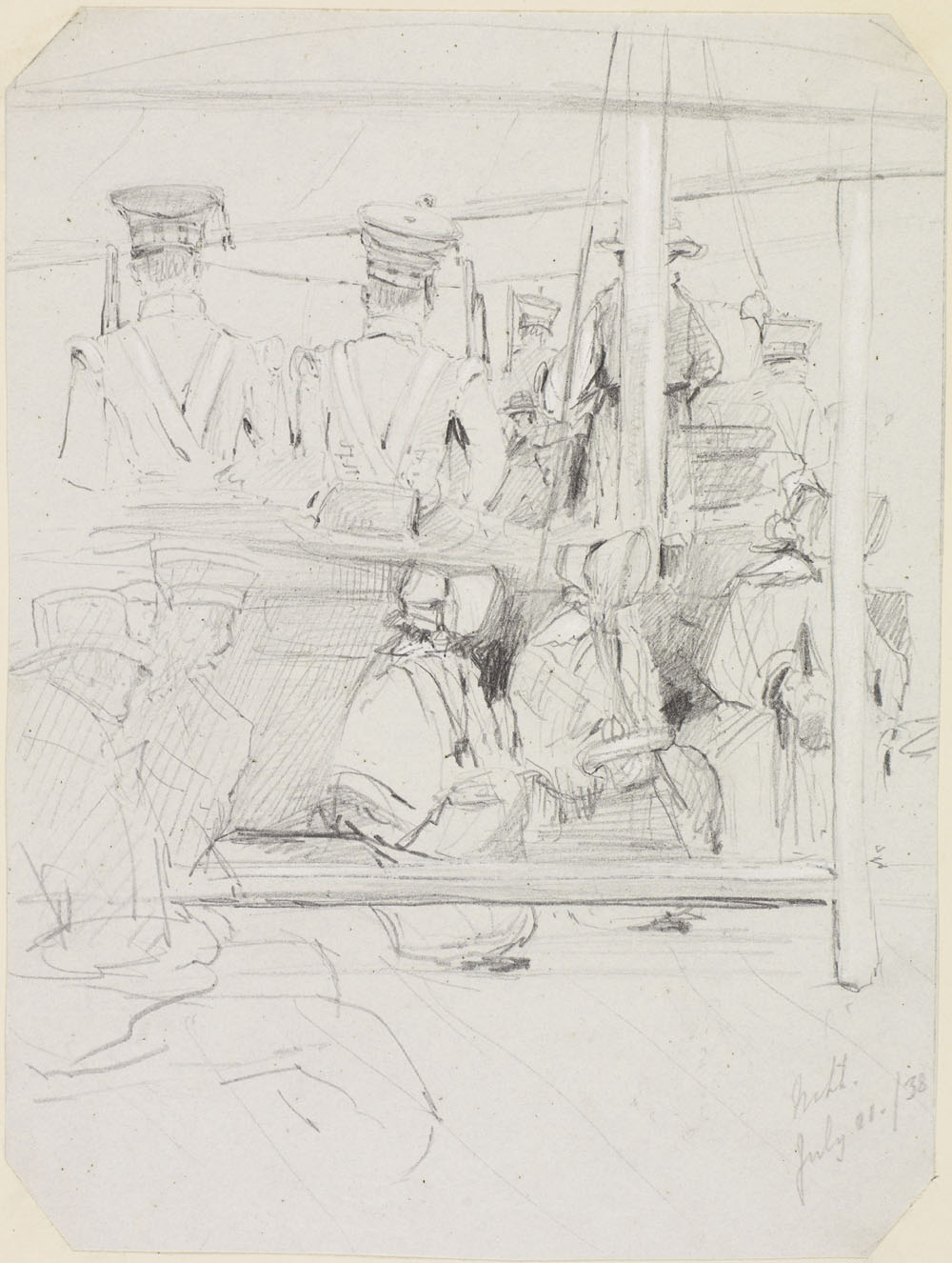 Online MIKAN no. 3994620 (1 item)
1 drawing: pencil on blue wove paper, corners cut diagonally; 15.5x20.5 cm (image); 26x36 cm (folio)

The subject is a genre scene depicting figures on a single-masted sailing vessel viewed from aft. In the foreground to the left are two male figures roughly sketched in profile. One is wearing a top hat with a curved brim. The other is a military figure. In the middleground at the right, three female figures are seated and looking to their left. They are wearing poke bonnets with cylindrical crowns and broad funnel brims. There are ribbons ties around the crowns and under the chin. They wear cloaks and their hands are inserted into muffs. [Standing] behind the three female figures and to the right are two infantry soldiers with their backs facing the viewer. In the background are three male figures at the bow of the vessel. The central figure which appears to be at the helm is partially obscured by a mast. He is wearing a broad-brimmed hat. On either side of him are two infantry soldiers. All the soldiers are wearing bell top shakos with diced bands. One wears a hackle and another a tassel. A third has a button in the crown. They also wear coats with cross-belts and wings at the sleeve heads. One has a rectangular ammunition pack at his waist. They are also carrying firearms.
Graphic (art)
99: Closed pending processing
Volume
16
99: Closed pending processing
Credit: Library and Archives Canada, James Bruce, 8th Earl of Elgin, and family fonds (R977). Copyright: expired/périmé.
Physical description note
Album of Mary Louisa Lambton, page 50.

Signatures and inscriptions
Inscription: signature (MLL) and date on the artwork; no title provided. Pencil frame drawn with a straight edge.
Date modified: