Archives Search
Description found in Archives
Maris Pacifici (Quod vulgo mar del sur) cum regionibus circumiacentibus, insulisque in eodem passim sparis, novissima discriptio [cartographic material]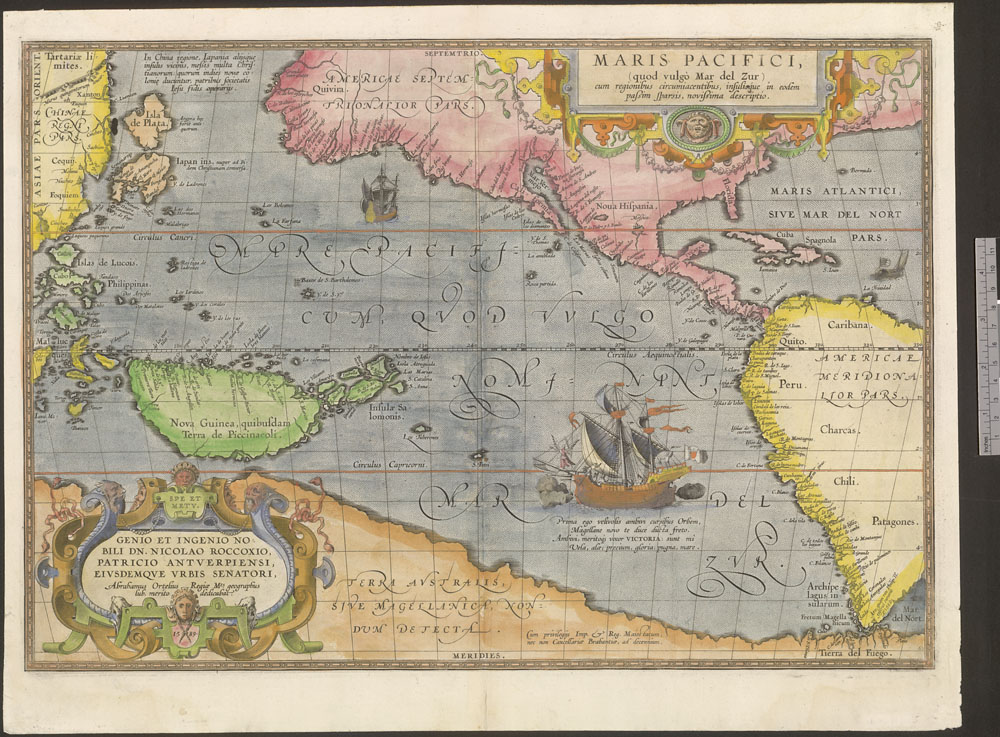 Online MIKAN no. 3835239 (2 items)
1 map : ill., hand col. ; 33 x 49 cm on sheet 40 x 52 cm.

This was the first map devoted to the Pacific Ocean published in 1589 and commemorating Ferdinand Magellan's discovery of the Ocean some 70 years earlier. The map includes parts of the East Indies, New Guinea and Japan and extends to the entire Western seaboard of the Americas. Magellan's ship "Victoria" is shown emerging in triumph from the Straits that bear his name, guns firing in celebration.
Cartographic material
90: Open
Original can be viewed in the presence o
f an early cartographic archivist.
Cartographic material
Microfiche NMC27746
90: Open
Cartographic material
90: Open
Volume
561 Item no. assigned by LAC 561

90: Open
Other accession no.
80101/245 CA
Credit Library and Archives Canada. Copyright expired.
Copper plate engraving.

Cartouche at bottom left of map: Genio et ingenio nobili dn. Nicolao Roccoxio, Patricio Antverpiensi, eiusdemque urbis Senatori / Abrahamus Ortelius, Regiae Mts. geographus lub. merito dedicabit, 1589.

On verso text in Latin " Mare Pacificvm fiue del zvr".

Ms. "9" appears in upper right margin.

Plate 6 from: Theatro del mondo / de Abrahamo Ortelio.

Includes decorative border and illustrations of various ships.

Alexander E. MacDonald Canadiana Collection # 561

Custodial history
Part of the Alexander E. MacDonald Canadiana Collection purchased by the Public Archives of Canada in 1981.

Related materials
For other versions and copies see: Mikan 3835078 (1612)(NMC 27745) ; and Mikan 189493 (1612)

Citation / reference note
Phillips, 430.
Koeman, vol. 3, Entry Ort 25, no 19.
Burden, Entry 74, State 1, pp. 93-95.

Copy / version note
The microfiche version is NMC 27746

Exhibitions note
This map was part of an exhibition held at The Royal Ontario Museum, March 1954 entitled "The Discovery & Mapping of the Great Lakes 'Sweet Water' 1522-1703" showcasing MacDonald's Collection.
1. Pacific Ocean - Discovery and exploration -Maps - Early works to 1800.
2. Pacific Ocean - Maps.
3. Pacific Ocean - Maps - Early works to 1800.
Date modified: