Archives Search
Warning: Descriptive record is in process. These materials may not yet be available for consultation.
Description found in Archives
Atlas of the city of Toronto and vicinity, March 1890, revised March 1899.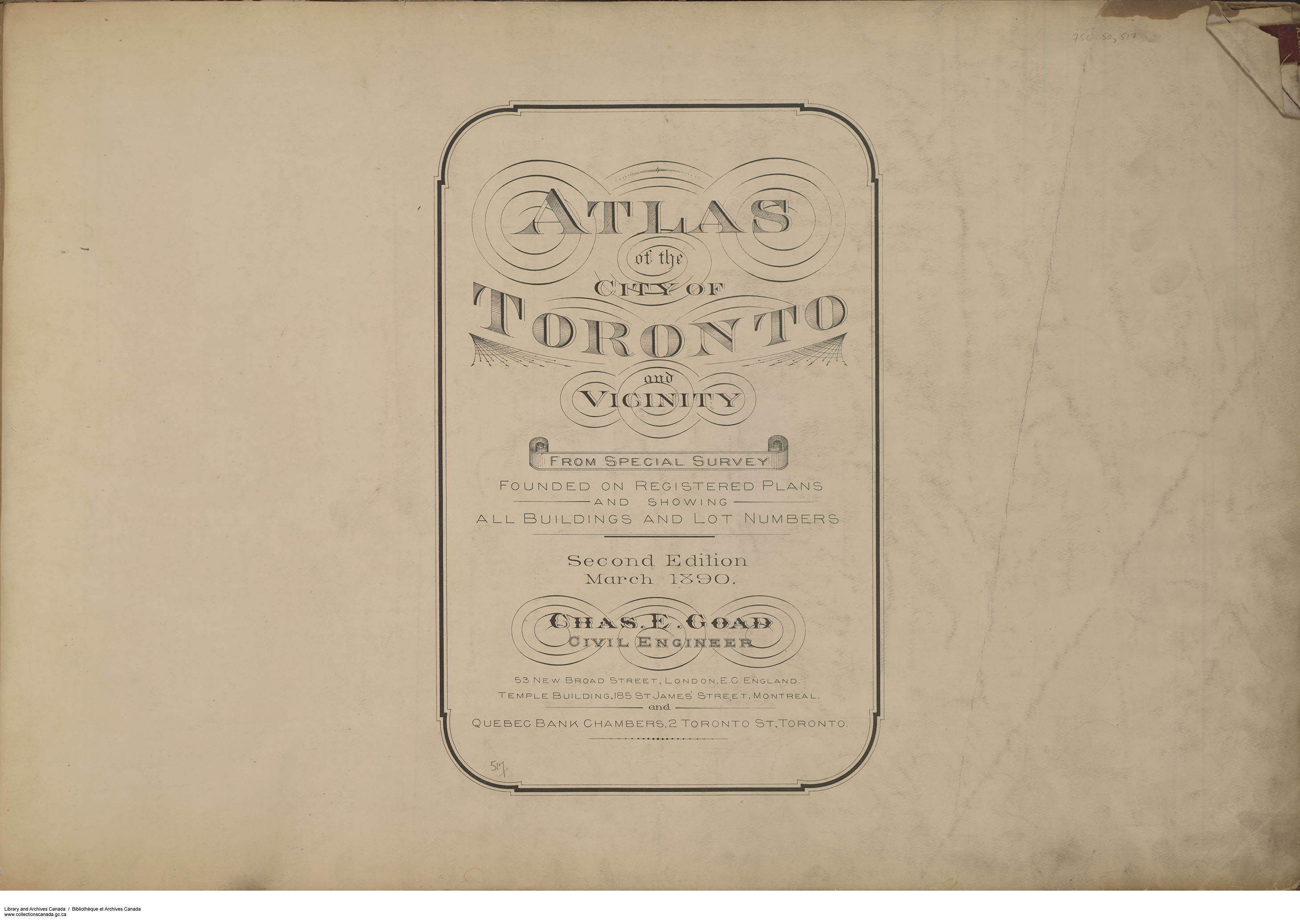 Online
(53)
Show Arrangement Structure

2nd Edition. Revised to March 1899
1 atlas (50 leaves of plates) : col. ; 49 x 73 cm.

Item is a fire insurance plan of Toronto, Ontario. It is based on "special survey and registered plans showing all buildings and lot numbers". It includes three unnumbered sheets: a title page with edition information, a table of contents page with street index, and a page with the continuation of the street index. Plates are numbered 1-28 and 30-50 (Plate 29 is missing). Plate 1 is a Key Plan. Plate 30 shows "Hiawatha Island, St. George's Ward, City of Toronto" in which the "water lines and buildings are only approximately located from sketch survey".
Cartographic material
Microfiche NMC98379
90: Open
Cartographic material
90: Open
Cartographic material
90: Open
Library of Congress class no.
G1149.T61G62 1899
Credit Library and Archives Canada Copyright: Expired
Plates 2-18 at scale [1:1 200]. Plates 19-29 and 31-33 at scale [1:2 400]. Plates 34-43, 46 and 47 at scale [1:3 600]. Plates 30, 44 and 45 at scale [1:4 800]. Plates 1 and 48-50 at scale [1:12 000].

Cartographic math data
Scales [1:1 200], [1:3 600], [1:4 800] and [1:12 000].


Accompanying material note
Item also includes a sheet of revision slips, "Rev'n No 2, March 1899."

Edition note
Previously Revised to Novr. 1894. Revision slips are plasted on.
Date modified: