Archives Search
Description found in Archives
A new map of North America shewing its principal divisions, chief cities, townes, rivers, mountains, &c. [cartographic material] /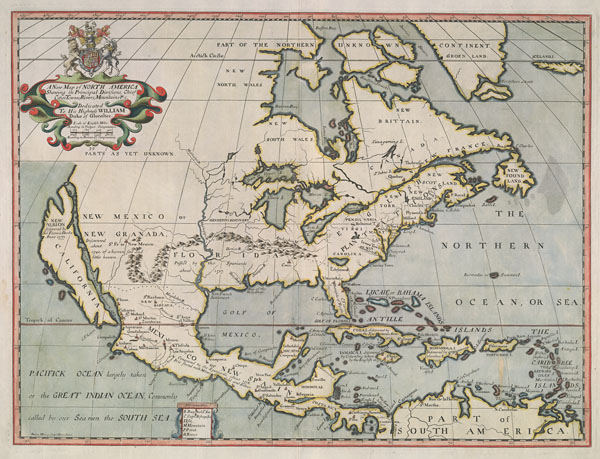 Online MIKAN no. 3727628 (1 item)
1 map : hand col. ; 35.7 x 48 cm on sheet 46.7 x 57.6 cm.

Map shows the known parts North America, the Caribbean and the northern part of South America.
Cartographic material
90: Open
Original can be viewed in the presence o
f an early cartographic archivist.
Cartographic material
Microfiche NMC27652
90: Open
Item no. (creator)
Alexander E. MacDonald Canadiana Collection # 163
Cartographic material
90: Open
Item no. assigned by LAC
163
90NA: Open but not available
Cartographic material
90: Open
Volume
163 Item no. assigned by LAC 163

90: Open
Other accession no.
80101/245 CA
Local class no.
H3/1000/[1700]
Credit Library and Archives Canada. Copyright expired.
"Dedicated to His Highness William Duke of Glocester".

Relief shown pictorially.

Includes table of abbreviations which include symbols for locations archbp & bishops.

Map has a number of historical notes regarding discoveries in the new world.

Plate no 39 appears below the title cartouche. A coat of arms appear above the title cartouche.

Map depicts California as an island while Washington state and western Canada are described as "parts yet unknown".

Following names appear on the Great Lakes: Traci of Upper L. (Superior) ; Illinois L. (Michigan) ; Huron L. ; Erie L or Cats L. (Erie) and Ontario or Frontenac L (Ontario).

M. Burg. stands for Michael Burgers, the official engraver to the university of Oxford.

Custodial history
Part of the Alexander E. MacDonald Canadiana Collection purchased by the Public Archives of Canada in 1981.

Related materials
LAC holds state 4 of this map dated [1743] see Mikan 3727380. see also Edward Well's atlas "A new sett of maps " (plate 39) AMICUS no 26306153 (G 1015/.W44/1730z) ; Mikan 4140911 (NMC 16974)

Cartographic math note
"Scales of English miles according ot Vulgar Computation and according to Norwoods computation".

Citation / reference note
Burden, Philip D., "The Mapping of North America II", 2007, p. 477- 479.
Phillips, Phillip Lee "List of Geographical atlases in the the Library of Congress", 1909, entries 3479.

Availability of other formats note
The microfiche version is NMC 27652

Copy / version note
Burden has identified this map as state 3 (1704) of the map based on information appearing on Great Lakes and fact that map shows St. John Lake and Timagaming L. in Canada.

Exhibitions note
This map was part of an exhibition held at The Royal Ontario Museum, March 1954 entitled "The Discovery & Mapping of the Great Lakes 'Sweet Water' 1522-1703 showcasing MacDonald's Collection.
National Map Collection 1984 Antique Map Calendar .
North America - Maps - Early works to 1800.
Date modified: