Archives Search
Description found in Archives
America settentrionale colle nuoue scoperte sin all'anno1688 [cartographic material] /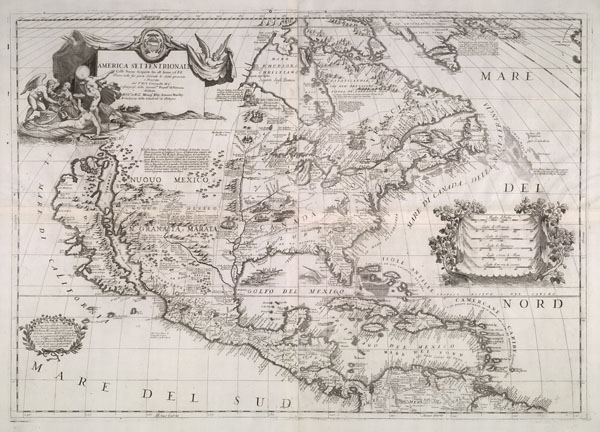 Online MIKAN no. 3727625 (1 item)
1 map : ill. ; 58.2 x 73.7 cm on sheet 69 x 91.2 cm.

Shows North America and Caribbean region.
Cartographic material
Microfiche NMC175333
90: Open
Item no. (creator)
Alexander E. MacDonald Canadiana Collection #160
Cartographic material
90: Open
Item no. assigned by LAC
160
90: Open
Other accession no.
80101/245 CA
Local class no.
H2/1000/[1690]
Credit Library and Archives Canada. Copyright expired.
Copperplate engraving.

Relief shown pictorially.

Prime meridian: Ferro

Includes several small engraved illustrations.

"Dedicata: All'illmo., et reumo. monsign. Felic Amtonio Marsily, archidiacono della catedrale di Bologna,

California is shown as an island while New England has a peninsula along the southern coast. The Mississippi River is depicted further west and appears close to the Rio Grande River. Lake Superior is called Lago Tracy while Lake Ontario is listed as L. Frontenac.

Includes decorative title cartouche as well as a decorative scale cartouche.

Small cartouche on lower left corner contains the following text: "Della California Alcuno hacreduto, che la California fosse, Penisola, attaccuta al Continente del Nuouo Mexico. Questa fil scoperta da Cortese a nome del Re' di Spagna l'anno 1534, c susseguentemente nauigate da Franesco d'Ulloa nel 1539 daH de Alarcon nel 1540 finalmente da Gio Roderigo Cabrillo nel 1542, lquali portaro no dessa sempre piu esatte relazioni".

Physical description note
Originally publised in 2 sheets, this copy has the 2 sheets conjoined to form one map.

Custodial history
Part of the Alexander E. MacDonald Canadiana Collection purchased by the Public Archives of Canada in 1981.

Related materials
For other copies see Mikan 3727269; Mikan 4148247 (NMC 8473).

Map is from Coronelli's atlas "Atlante Vento, volume 1.

Cartographic math note
Scale cartouche contains the following scales: Miglia d'Italie, Leghe di Francia, Leghe di Spagna, Leghe d'Alemagna, Leghe comuni di mare, Leghe d'un ora di camino.

Citation / reference note
Phillips, Phillip Lee " A List of geographical atlases in the Library of Congress", 1909. entry 521.
Burdern, Phillip D. "The Mapping of North America II", 2007, p. 323-327.

Availability of other formats note
The microfiche version is NMC 175333
1. North America - Maps - Early works to 1800.
2. Caribbean - Maps - Early works to 1800.
Date modified: