Archives Search
Description found in Archives
Canada, New Brunswick and Nova Scotia [cartographic material] /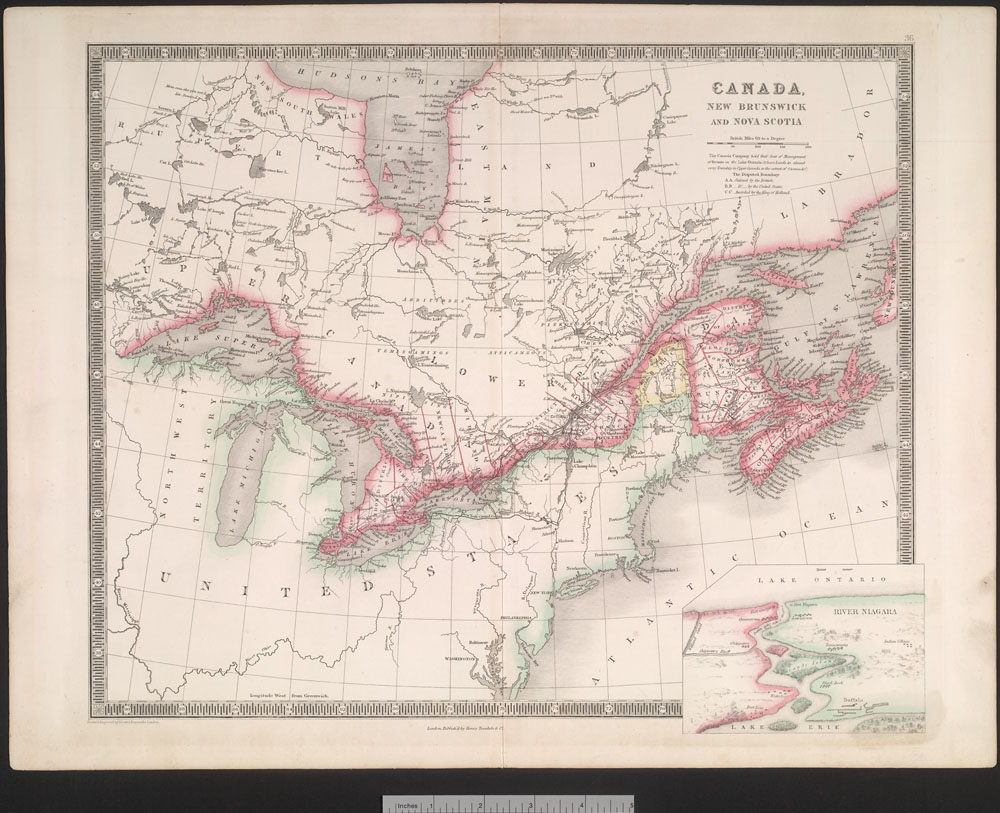 Online MIKAN no. 3726193 (1 item)
1 map : hand col. ; 33 x 41 cm on sheet 39 x 50 cm.

Cartographic material
Microfiche NMC191080
90: Open
Item no. (creator)
Alexander E. MacDonald Canadiana Collection #406
Cartographic material
90: Open
Item no. assigned by LAC
406
90: Open
Other accession no.
80101/245 CA
Local class no.
H3/1100/[1842]
Credit Library and Archives Canada. Copyright expired.
Following information appears on map: "The Canada Company hold their Seat of Management at Toronto on Lake Ontario (& have lands at almost every township in Upper Canada to the extent of 2,500,000 acs.)"

Shows "The disputed boundary AA claimed by the British ; BB claimed by the United States; CC Awarded by the King of Holland".

Includes inset : [Niagara River area].

36 appears in upper right corner.

Shows political administrative divisions.

"British mile 69 to a degree".

Longitude west from Greenwich.

Appears to be from Dower's "A new general atlas of the World", 1838 or 1842 edition.

Custodial history
Part of the Alexander E. MacDonald Canadiana Collection purchased by the Public Archives of Canada in 1981.

Related materials
For other copies of this map see: Mikan 3726199.

Citation / reference note
LeGear, entry 6083 and 6094.
1. Canada
2. New Brunswick - Maps.
3. Nova Scotia - Maps.
Date modified: