Archives Search
Description found in Archives
Plan de la cataracte de Niagara et de l'Isthme qui separe les Lacs Erie et Ontario [document cartographique] :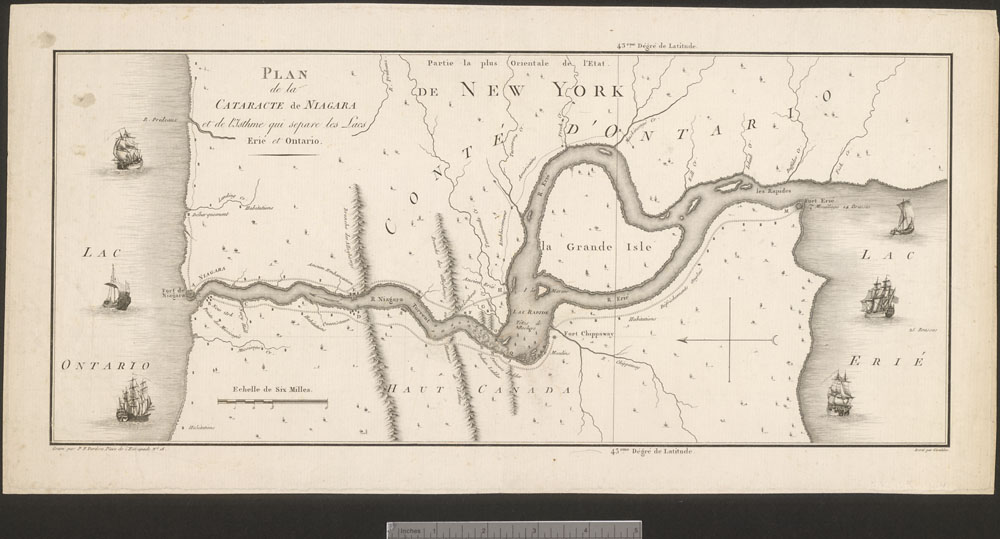 Online MIKAN no. 3725114 (1 item)
1 carte : n.&b. ; 20 x 45 cm sur feuille 24 x 50 cm.

Cartographic material
Microfiche NMC134669
90: Open
Item no. (creator)
Alexander E. MacDonald Canadiana Collection #504
Cartographic material
90: Open
Item no. assigned by LAC
504
90: Open
Other accession no.
80101/245 CA
Local class no.
H3/410/Niagara River/[1801] (copy 1)
Crédit Bibliothèque et Archives Canada. Domaine public.
Coin inferieur à droite ecrit par Giraldon.

Coin inférieur gauche: Grave par P.F. Tardiue, Place de l'Estrapade No 18.

43 eme dégré de latitude.

Relief represénte sous forme graphique.

Custodial history
Fait partie de la collection Canadiana Alexander E. MacDonald achetée par les Archives Publiques du Canada en 1981

Citation / reference note
Winearls, entry 684.

Original version note
Edition l'origine dans le "Voyages dans la haute Pennsylvania et dans l'état de New York" par J. Hector St. John de Crèvecoeur, 1801.
1. Niagara, Région du (N.Y. et Ont.) - Cartes - Jusqu'a 1900.
2. Niagara River Region (N.Y. and Ont.) - Maps - Early works to 1900.
Date modified: