Archives Search
Description found in Archives
Canada West formerly Upper Canada [cartographic material] /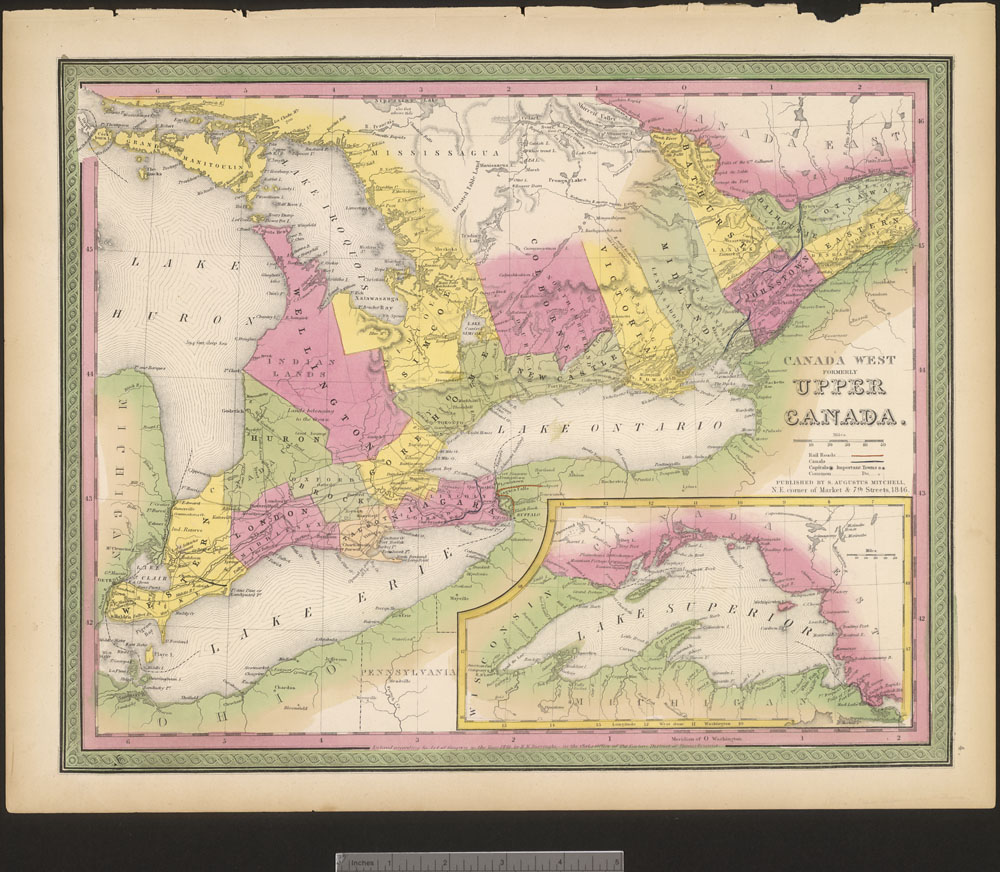 Online MIKAN no. 3723099 (1 item)
1 map : hand col. ; some ms features ; 29 x 37 cm on sheet 36 x 44 cm.

Cartographic material
Microfiche NMC119058
90: Open
Item no. (creator)
Alexander E.MacDonald Canadiana Collection #476
Cartographic material
90: Open
Item no. assigned by LAC
476
90: Open
Other accession no.
80101/245 CA
Local class no.
H3/400/1846 (copy 2)
Credit Library and Archives Canada. Copyright expired.
Relief shown by hachures.

Shows railroads, canals, captials and important towns.

Includes inset: Lake Superior. Scale [ca. 1:3 801 600].

"Entered according to Act of Congressin the year 1846 by N.H. Burroughs, in the Clerks Office of the Eastern District at Ppennsylvania".

Bottom right corner #4.

Includes decorative border

Custodial history
Part of the Alexander E. MacDonald Canadiana Collection purchased by the Public Archives of Canada in 1981.

Related materials
For other copy of this map see Mikan 3723076.

Citation / reference note
Winearls, entry 96, state 5, 1846.
LeGear, 6103.

Original version note
Map published in S. Augustus Mitchell's "A new universal atlas containing maps of various empires, kingdoms, states and republics of the world, with special maps of each of the United States, plans of cities &c., comprehended in seventy sheets and forming a series of one hundred and seventeen maps, plans and sections.

Statement of responsibility note
Published by S. Augustus Mitchell, N.E. Corner of Market & 7th street, 1846.
1. Upper Canada - Maps.
2. Superior, Lake - Maps.
3. Ontario - Maps.
Date modified: