Archives Search
Description found in Archives
A new map of the most considerable plantations of the English in America [cartographic material] /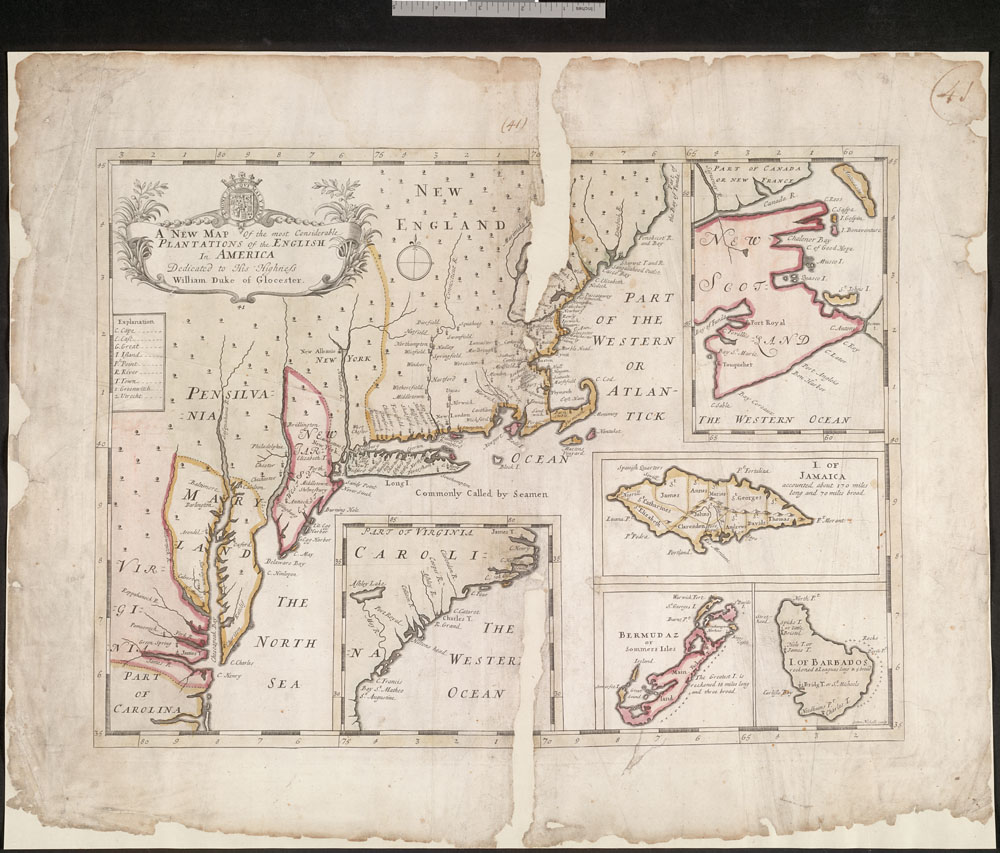 Online MIKAN no. 3716290 (1 item)
1 map: hand col. ; 33.5 x 45.8 cm on sheet 47 x 58 cm.

Shows New England, Nova Scotia, Pennsylavnia, Maryland, Virgina and part of Carolina as well as the Islands of Jamaica, Bermuda and Barbados.
Cartographic material
Microfiche NMC105626
90: Open
Cartographic material
Microfiche NMC 105626
90: Open
Item no. (creator)
Alexander E. MacDonald Canadiana Collection #607
Cartographic material
90: Open
Item no. assigned by LAC
607
90: Open
Other accession no.
80101/245 CA
Credit Library and Archives Canada. Copyright expired.
"Dedicated to His Highness William Duke of Glocester."

Map appears in Edward Wells, "A new sets of maps both of anitient and present geography", 1700.

Includes legend of and insets: New Scotland -- Part of Virgina -- I. of Jamaica -- Bermudaz or Sommers Isles -- I. of Barbados.

relief shown pictorially.

Physical condition note
Map torn in two places but conserved on and mounted on paper support.

Custodial history
Part of the Alexander E. MacDonald Canadiana Collection purchased by the Public Archives of Canada in 1981.

Citation / reference note
Burden, Philip D. "The Mapping of North America II" 1 2007, entry 773, pp. 500-501, state 2.
Scott, Valerie " Tooley's Dictionary of Mapmakers", Revised edition Q-Z. 2004, p. 370.
Phillips, Philip Lee. " A List of Geographical Atlases in the Library of Congress", 1909. entries 531, 564, 3479, 3480, 3489, 4284, 5972.

Statement of responsibility note
Sutton Nicholls, sculp appears in bottom right corner of map.
North America - Maps - Early works to 1800.
Date modified: