Archives Search
Description found in Archives
Mapmonde ou description generale du globe terrestre [document cartographique] /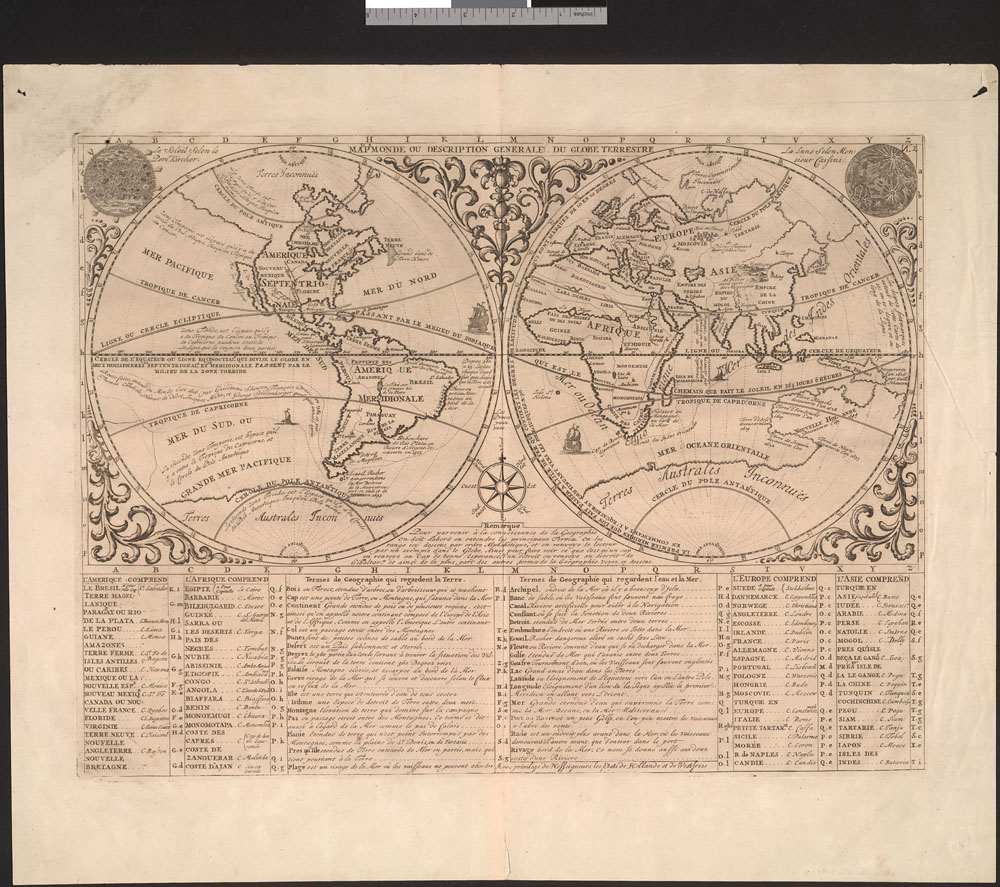 Online MIKAN no. 3708887 (1 item)
Chez François l'Honoré & Compagnie]
1 carte : ill., b & w. ; 33 x 44.5 cm sur feuille 42.5 x 51.5 cm.

Représente le monde en deux hémisphère.
Cartographic material
90: Open
La consultation de l'original se fait en
présence de l'archiviste responsible des carte anciennes.
Cartographic material
Microfiche NMC27684
90: Open
Item no. (creator)
Alexander E. MacDonald Canadiana Collection #62
Cartographic material
90: Open
Volume
62 Item no. assigned by LAC 62

90: Open
Other accession no.
80101/245 CA
Local class no.
10000 [1705] H3 copy 2
Crédit Bibliothèque et Archives Canada. Domaine public.
Comprend L'Amerique comprend, L'Africique comprend, termes de geographie qui regardent la terre, termes de geographie qui regardent l'eau et la mer, l'Europe comprent et l'Asie comprend

Relief montré par hachures.

Comprend: Le soleil selon le pere Kircher - La lune selon mon sieur Cassini.

Comprend le remarque: " Pour par venir à la connoissance de la géographie on doit dabord en entendre les principaux Femes. On les range ici dessous par ordre. Alphabetique, et on renvoye le lectur par un exemple dans le Globe. Ainsi pour faire voir ce que c'est qu'on cap on renvoye au cap de bonne Esperance d'un detroit on renvoye au detroit - de Gibator et ainsi, de la plus part des autre terme de le géographie voyer cy dessons."

Custodial history
Fait partie de la collection Canadiana Alexander E. MacDonald achetée par les Archives Publiques du Canada en 1981.

Related materials
Atlas historique, ou Nouvelle introdution à historique à la chronologie & à la géographie ancienne & moderne ; repréfentée dans de Nouvelles cartes, ou l'on remarque l'établissement des Etats & Empires du monde, leur durée, leur chute, & leurs differens Gouveremens; La chronalogie des consuls Romains, des Papes, des Empercurs, des Rois & des Princes, &c qui ont étét depuis le commencement du Monde, jusqu'a préfent et la Génealogie des Maisons Souveraines de l'Europe / par Mr. C. *** avec des dissertation sur Histoire de chaque etat, par Mr. Gueudeville, 1705. voir G/1015.C5 1705 -fol. Vault (carte no 2) voir AMICUS no 26372483.

Alexander E. MacDonald Canadiana Collection #52- Mikan 3709129

Citation / reference note
Phillips, Philip Lee. " A list of Geographical Atlases in the Library of Congress", 1901, vol. 1, 548.

Availability of other formats note
La version microfiche est NMC 27684
1. Monde - Carte - 0uvrages anciens, 1701-1750.
2. World - Map - Early works, 1701-1750.
Date modified: