Archives Search
Description found in Archives
Nieuwe en nauwkeurige kaart van het zuidelykste gedeelte van spanje genaamt Andalusie [cartographic materail] waar in aangewezen word het Bisdom en de Stadt van Cadix, als mede de Stadt en haven van Gibraltar, door de Englsche ingenomen .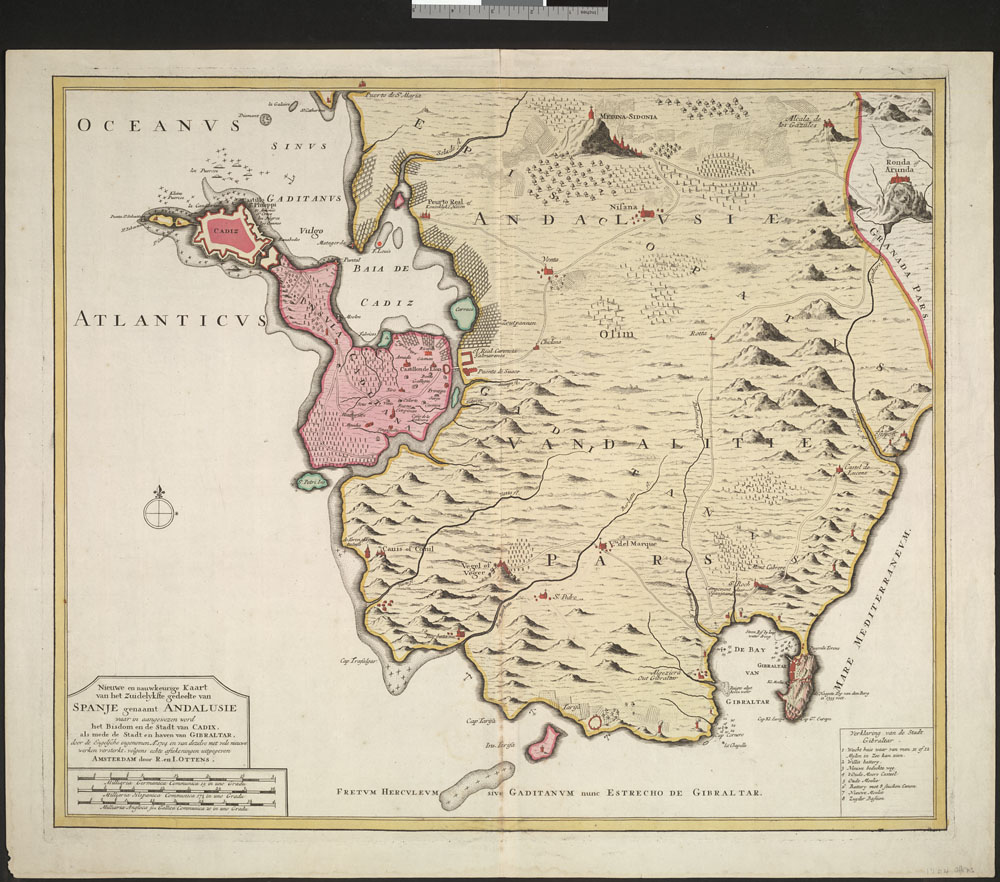 Online MIKAN no. 3705365 (1 item)
1 map : hand col. ; 46.7 x 55.6 cm on sheet 53.3 x 63.5 cm.

Map covers the present day area of Andalusia, Spain.
Item no. (creator)
Alexander E. MacDonald Canadiana Collection #634
Cartographic material
90: Open
Item no. assigned by LAC
634
90: Open
Other accession no.
80101/245 CA
Credit the Library and Archives of Canada. Copyright expired.
Relief shown pictorially.

Includes a legend entitled "Verklaring van de Stadt Gibraltar" Also shows locations of castles, churches and fortications structures.

Custodial history
Part of the Alexander E. MacDonald Canadiana Collection purchased by the Public Archives of Canada in 1981.

Cartographic math note
Map contains the following three scale statements: Milliaria Germanica Communica 15 in uno Gradu ; Milliaria Hispanica Communica 17 1/2 in uno Gradu ; Millaria Angleca five Gallica Communica 20 in uno Gradu.

Citation / reference note
Reference: Phillips " A list of Geographical Atlases in the Library of Congress", vol IV, item 4257. Map was from volume 5, plate 113 of " Atlas maior cvm generales omnivm totius orbis regnorvm rervmpvbl.

Statement of responsibility note
Although the names R. en J .Ottens appeasr on the map, the date 1704, which appears would indicate that the work was actually completed by the father Joachim Ottens. The brother's name was propabaly added at a later date as they formally went into partnership in October 1726 (Philip D. Burdem, The Mapping of North America II, 2007. p. 405)
Spain - Andalusia - Maps.
Date modified: