Archives Search
Description found in Archives
The Insurgents, At Beauharnois, Lower Canada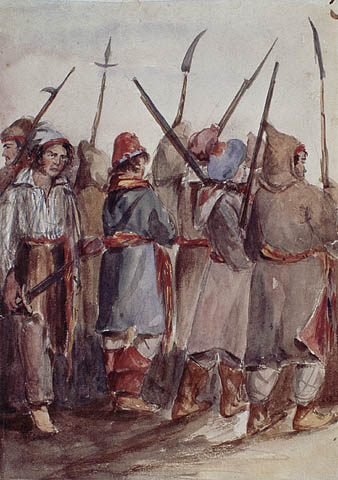 Online MIKAN no. 2836920 (2 items)
No place, unknown, or undetermined
1 watercolour / aquarelle : watercolour over pencil on blue-gray wove paper
Support: 16.600 x 23.800 cm

A depiction of some of the rebels at Beauharnois. Katherine Jane Ellice was at her father-in-law's seigneury at Beauharnois when it was attacked on November 4, 1838. She was kept prisoner there with her sister Tina (Miss Eglantine Balfour) and other members of the household until November 10, when they were freed by troops.
Watercolour originally glued into album.
Digitization project: Treasured Memories.
Graphic (art)
90: Open
Physical access through an art archivist
. No restrictions on use for reproduction or publication
Graphic (art)
Copy negative C-013392
90: Open
Box
A069-02 Item no. assigned by LAC 24

90: Open
Other accession no.
00024
1990-215 X DAP
Credit: Library and Archives Canada, Acc. No. 1990-215-24R
Copyright: Expired
Removed from: album: Katherine Jane Ellice Album

Availability of other formats note
Colour transparency available

Exhibitions note
Exhibition title: Image of Canada. Curators: Michael Bell, National Archives of Canada, Ottawa, Ontario; 1972.01.19 - 1972.03.15, cat. no.: no. 41. Further venue: Montreal Museum of Fine Arts, Montreal, Quebec; 1972.08.10 - 1972.09.30.
Further venue: Royal Ontario Museum, Toronto, Ontario; 1972.11.16 - 1973.01.13.
Further venue: Norman Mackenzie Art Gallery, Regina, Saskatchewan; 1973.02.04 - 1973.02.24.
Further venue: Winnipeg Art Gallery, Winnipeg, Manitoba; 1973.03.19 - 1973.04.22.
Further venue: Glenbow Alberta Institute, Calgary, Alberta; 1973.10.01 - 1973.10.31.
Further venue: Vancouver Art Gallery, Vancouver, British Colombia; 1973.12.01 - 1973.12.31.
Further venue: Victoria Art Gallery, Victoria, British Colombia; 1974.01.15 - 1974.02.15.
Further venue: Memorial University Art Gallery, St. John's, Newfoundland; 1974.04.01 - 1974.04.30.
Further venue: Beaverbrook Art Gallery, Fredericton, New Brunswick; 1974.05.15 - 1974.06.15.
Further venue: Confederation Centre, Charlottetown, P.E.I.; 1974.07.01 - 1974.08.30.
Further venue: Nova Scotia Museum, Halifax, Nova Scotia; 1974.09.15 - 1974.10.01.
Further venue: International Exhibition Foundation, Washington D.C.; 1975.
Exhibition title: Papineau - His Life and Time. Curators: Claude Baribeau, National Archives of Canada, Ottawa, Ontario; 1986.11.26 - 1987.02.28.
Exhibition title: Rebellion of the Canadas, 1837-1838. Curators: Robert J. Burns, Marianne McLean, and Susan Porteous, National Archives of Canada, Ottawa, Ontario; 1987.08.12 - 1987.10.04.
Exhibition title: Treasured Memories.
Curators: Tétrault, Martin.
Curators: National Archives of Canada, Ottawa, Ontario; 1997.05.14 - 1998.01.
Exhibition title: Rébellions 1837 to 1838 Patriotes Vs Loyaux. Curators: Pointe-à-Callière, Montreal, Quebec; 2007.11.06 - 2008.04.27.
Exhibition title: le 175 anniversaire des Rébellions bas-canadiennes, Maison nationale des Patriotes, Saint-Denis-sur-Richelieu, Québec; 2012.04.28 – 2012.09.30.

Signatures and inscriptions
Signed. Dated.
1. Military Activity.
2. SUBJ. - Military Activity : The Taking of Prisoners, 1838.
3. event.
4. Historical Events - Rebels : Beauharnois - 1838.
5. Québec.
Date modified: