Archives Search
Description found in Archives
Lois Allan fonds [textual record].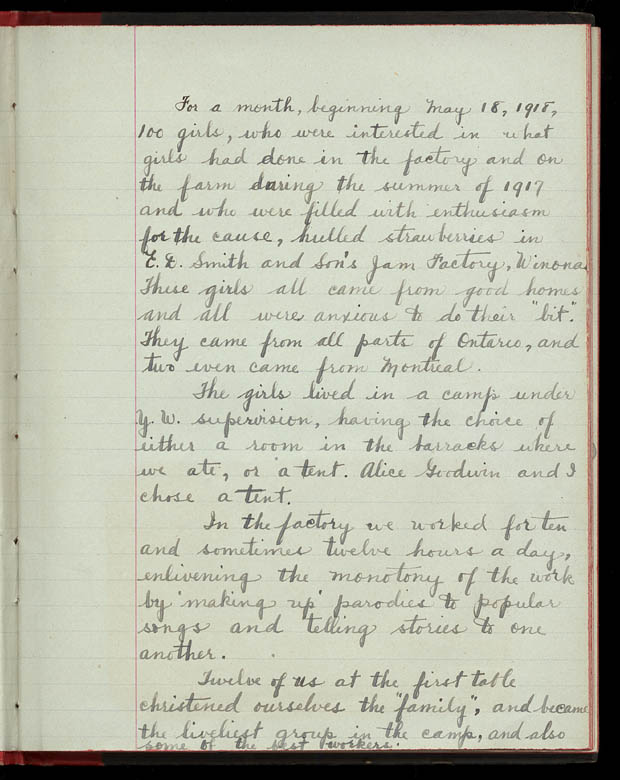 Online MIKAN no. 101678 (1 item)
Fonds consist of a diary written by Lois Allan while on summer duty in the Farm Service Corps in Ontario, 1918, and other material.
Former archival reference no.
Biography / Administrative history
In 1917, the Trades and Labour Branch of the Ontario Department of Public Works established a program of summer farm employment, primarily for women university students in the Province. The program was designed to alleviate the rural labour shortage that had been aggravated by wartime demands upon manpower.

Lois Allan, a student at Queen's University, worked during the summer of 1918 in the Winona Ontario camp. The Farm Service Corps button shown on the first page of the diary was given to participants who finished the period of voluntary service.
Received in 1979 from Lois Allan through David Smyth of Ottawa, Ont.

Availability of other formats note
One page of the handwritten diary is available in digital form.
1. Ontario. Department of Public Works. Trades and Labour Branch.
2. Women in education Ontario.
3. Queen's University (Kingston, Ont.)
4. Volunteers Canada.
5. Bénévoles Canada.
6. Winona (Stoney Creek, Ont.)
7. Farm life Ontario.
8. Vie à la ferme Ontario.
9. World War, 1914-1918 Women.
10. Women Employment.
11. Femmes Travail.
12. Farms Ontario.
13. Exploitations agricoles Ontario.
14. Agricultural laborers.
15. Travailleurs agricoles.
16. Labor supply Ontario.
17. World war, 1914-1918 War work Canada.
18. Guerre mondiale, 1914-1918 Participation des civils Canada.
19. Ontario Farm Service Force.
Date modified: