Archived Content
This archived Web page remains online for reference, research or recordkeeping purposes. This page will not be altered or updated. Web pages that are archived on the Internet are not subject to the Government of Canada Web Standards. As per the Communications Policy of the Government of Canada, you can request alternate formats of this page on the Contact Us page.
Educational Resources
"Who was William Lyon Mackenzie King?"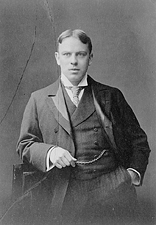 W.L. Mackenzie King
William Lyon Mackenzie King was Prime Minister of Canada. Most of you probably recognize more recent Prime Ministers like Jean Chrétien, Brian Mulroney, Pierre Elliott Trudeau, Kim Campbell, or even Lester B. Pearson. Mackenzie King was Prime Minister for 22 years during the period between 1921 and 1948. During his time as Prime Minister, he led our country through three very turbulent times:
The period after the First World War — sometimes called the Roaring Twenties;
The Great Depression;
The Second World War and afterwards.
You probably don't know this, but Mackenzie King's influence on Canadian society is still felt by most Canadian families today. He introduced the federal old-age pension in 1926. Then in 1940, he introduced federal unemployment insurance, and in 1944, he introduced the federal family allowance (The Family Allowances Act).
There are a couple of other reasons why you'll probably be interested in William Lyon Mackenzie King. People that actually knew him thought he was really interesting. Not only was he friends with some of the most famous people in the world, he wrote books, loved athletics and horseback riding, and was the only Prime Minister so far, to study and receive a PhD!
Check out the Facts to get the scoop on Mackenzie King's personal life. And did you know that he actually wrote, or dictated a daily diary for 57 years, his whole adult life?
Want to do more research on William Lyon Mackenzie King? Click this link.