Archived Content
This archived Web page remains online for reference, research or recordkeeping purposes. This page will not be altered or updated. Web pages that are archived on the Internet are not subject to the Government of Canada Web Standards. As per the Communications Policy of the Government of Canada, you can request alternate formats of this page on the Contact Us page.
Democracy Workshop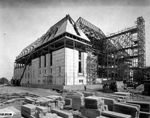 Supreme Court building under construction, Ottawa, August 11, 1939
This section explores Canada's past and present political themes as they relate to LAC's collections. Content is developed by guest contributors invited to share their expertise. The Democracy workshop invites visitors to participate in a public dialogue on past and present political issues, ideas and events, with subject experts and other visitors.
---
John A. Macdonald: An Undemocratic Democrat
By Richard Gwyn
Beyond much argument, John A. Macdonald was the least democratic of all of Canada's leaders. Read more
You'll Never Die, John A.!
By Thomas S. Axworthy
First-time leaders of new nations matter. Just think of the difference it has made to their respective countries having Nelson Mandela as President of South Africa, while neighbouring Zimbabwe has had to endure Robert Mugabe. Among Canada's manifold blessings, one of the most significant (and least appreciated) is that Sir John A. Macdonald was our first Prime Minister. Read more
Democracy in Canada
by Katherine Fierlbeck, Dalhousie University
What is democracy, and what, if anything, is distinctive about Canadian democracy? Modern democracy has evolved too far to be explained in terms of an engaged rule by the citizenry; few voters are convinced that their individual actions are particularly important except in a symbolic sense. Read more
Aboriginal Treaties
By J.R. Miller, University of Saskatchewan
Treaties between Aboriginal peoples and the Crown are important building blocks of modern Canada. They legitimize the presence of non-Aboriginal newcomers through agreements to share territory. They encourage social cohesion by facilitating relations between Natives and newcomers. And since they gained constitutional protection under the constitution adopted in 1982, treaties become part of the country's foundational documents. Read more